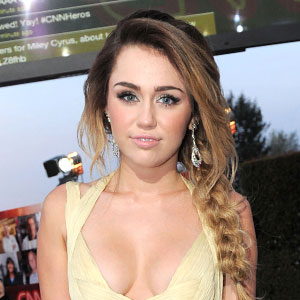 Jordan Strauss/Wireimage
Miley Cyrus made quite the splash Sunday at the CNN Heroes: An All-Star Tribute event. Actually, make that two splashes
After the 19-year-old hit the red carpet in a cleavage-baring Roberto Cavalli gown that left no asset to the imagination, so started the speculation that Cyrus may have popped for a permanent Wonder Bra recently.
Star magazine even quoted a plastic surgeon who said, "If you look at the volume, it appears she has had a breast augmentation."
But if you look at Cyrus' Twitter page…
READ: Miley Cyrus Ain't a Stoner, But Who'd Care if She Was?
"Thank you for the compliment but these babies are all mine," she tweeted today. "I wish they'd realize you don't have to be fake to be beautiful!"
And there you go.
GALLERY: Fashion Spotlight on Miley Cyrus

Link to this story: